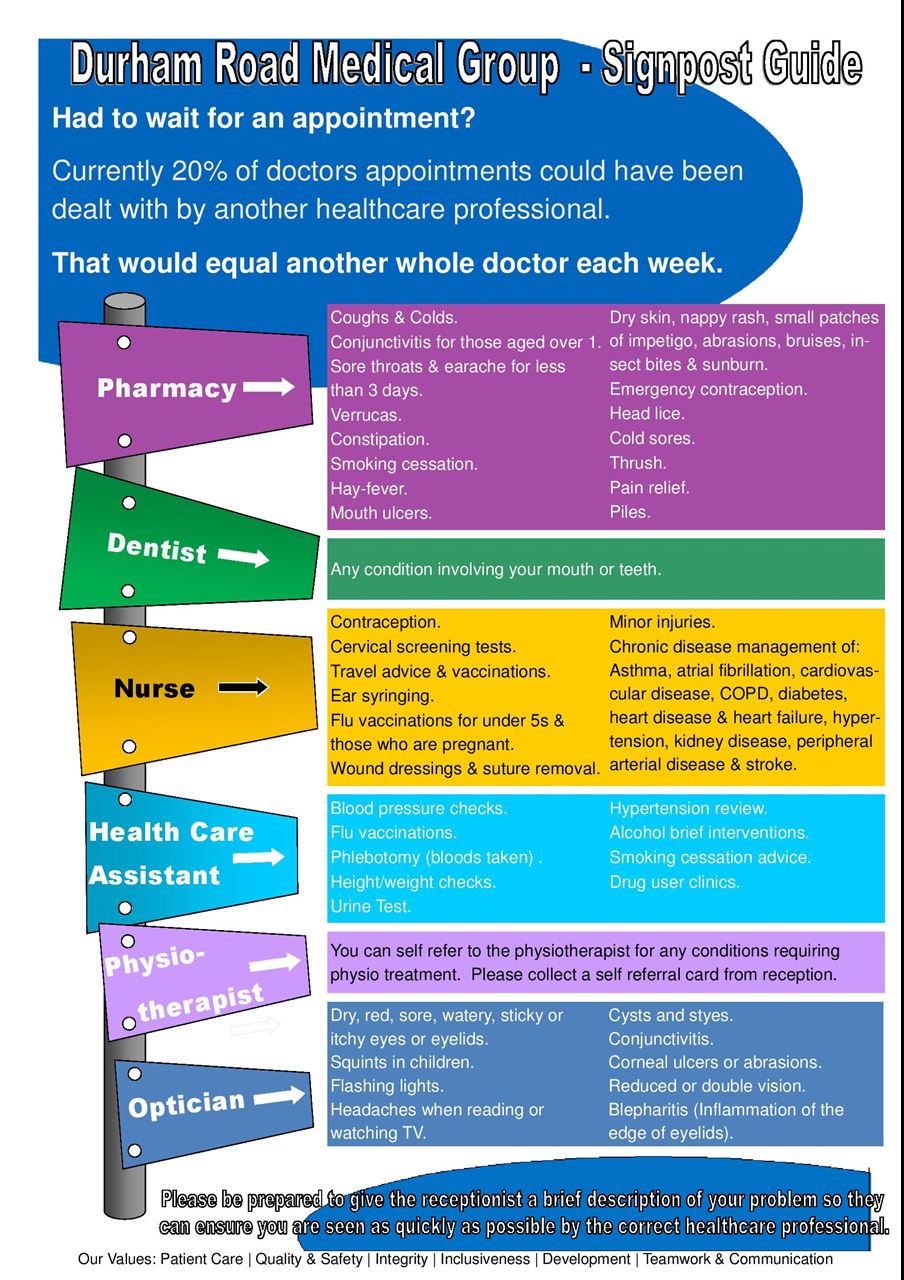 Appointments System
Consultations are by appointment and can be booked in person or over the telephone during opening hours.
Pre-bookable - we have a small percentage of pre-bookable appointments that can be booked up to 4 weeks in advance. These appointments are available during early morning, afternoon or evening surgeries. These can be booked by calling after 11am on Wednesday mornings. Once these appointments are booked, more will be avaliable the following Wednesday and so on.
On the day - the remaining appointments can only be booked by phoning on the day you NEED to be seen. Please telephone as early as possible (lines open at 08:00) as the demand can be high.
Evening surgeries - these are available once a week either on a Monday, Tuesday, Wednesday or Thursday evening with one doctor and or one nurse providing appointments. We hope that these appointments will be most useful for patients who work during the day.
Telephone Consulting- The Doctors also provide telephone consultations by appointment, which are suitable for things which do not require an examination, such as discussing test results, response to change of medication, renewal of a prescription that is not on repeat etc. This can save travel time and inconvenience for the patient. Please provide current phone number and keep line free so the doctor can call you.
Need to be seen urgently? We can arrange to see anyone who is particularly unwell or in pain or urgently needs to be seen. Please inform the receptionist and they will either allocate an appointment or ask the duty doctor [one of the GPs from the practice] to call you back and discuss your condition, so that appropriate arrangements can be made. Please give the receptionist an indication of the type of problem so they can pass this on to the doctor, who may be dealing with a lot of urgent problems at once and needs to prioritise.
Cancellations

If you cannot attend an appointment for any reason please inform us as soon as possible in order for us to give the appointment to someone else.
Advanced Nurse Practitioners/Practice Nurses/Clinical Nurse Specialist
Here at Durham Road we have a friendly team of nurses.
Advanced Nurse Practitioners (ANPs):
Ivan Cabau-Sole - RN, MSc, NMP (for non medical prescriber).
Kathryn Janssens - BSc in Nursing, BSc (Hons), Person Centred Practice (District Nursing), PgDip in Advanced Clinical Practice
You may be invited to see one of our ANPs rather than a GP. ANPs are highly experienced nurses educated to a master's level and are able to take a comprehensive history, carry out a physical examination, use their clinical judgement, additional training and knowledge to identify a potential diagnosis. ANPs work in partnership with patients to devise treatment plans that may include further investigations such as x-rays, scans, blood tests and prescribe any required medication. ANPs can also refer to specialist doctors and arrange hospital admissions.
Practice nurses:
Enice Brady - RGN RM BN
Eilidh Crichton (Trainee PN)
Practice nurses assess, screen, treat and educate patients with chronic illness such as asthma, COPD and diabetes. They also perform cervical smears, wound assessment and administer medication.
Community Nurse Practitioner:
Steven Squance - BSc
Steven currently specialises in sexual health, women's health (menopause, HRT, contraception) and INR clinics.
Health Care Assistant:
Diane Antonietti
Diane's duties include phlebotomy, INRs, BP checks and administering Vit B12 injections.
Please note you may be asked to attend our local CTAC centre for ear syringing, wound care, clip or stitch removal or doppler assessments.
Flu and Covid vaccines are now administered at your local vaccination centre.
If you have any questions regarding our nursing team please contact the surgery.
Emergency Appointments
Examples of problems we consider urgent are:

Chest Pains
Breathlessness
Abdominal Pain (not long standing)
Unwell with UTI
Child under 5 years old
Emergency contraception
Psychiatric crisis
Any 'new' problem in pregnancy (e.g. migraine)
Rash with fever
Head Injury
New onset of face/limb weakness
Vision loss (sudden)
Chest Infection
Ear Infection
Antibiotics finished but still symptomatic
Seizures
Asthma/COPD emergencies
Testicular pain
Increased confusion

This is not an exhaustive list. If you feel your problem is medically urgent, please ask.

PLEASE REFER TO THE SIGNPOSTING DIAGRAM ABOVE TO SEE IF YOUR CONDITION COULD BE DEALT WITH BY ANOTHER HEALTH CARE PROFESSIONAL

Examples of things we would NOT usually consider urgent are:

Coughs and colds
Hayfever
Acne
Long standing pain (abdominal, back, joints)
Minor eye conditions
Dental problems
Letters/prescriptions/sick notes
Results
Non-urgent Medication
Constipation
Skin issues longstanding
Follow-ups
Sexually transmitted disease (STD's)
Headaches
Ingrowing Toenails
Hearing problems
Non-urgent Contraception & HRT
Haemorrhoids
Doctors Timetable
Morning

Afternoon

Monday

Dr Lunniss

Dr Gordon

Dr O'Brien

Dr Lunniss

Dr Gordon

Dr O'Brien

Tuesday

Dr Mills

Dr Hall

Dr O'Brien

Dr Roberts

Dr Mills

Dr Hall

Dr O'Brien

Wednesday

Dr Mills

Dr Lunniss

Dr Hall

Dr Gordon

Dr O'Brien

Dr Roberts

Dr Lunniss

Dr Hall

Dr Gordon

Dr Roberts

Thursday

Dr Lunniss

Dr Mills

Dr Roberts

Dr O'Brien

Dr Lunniss

Dr Roberts

Dr O'Brien

Friday

Dr Mills

Dr Roberts

Dr Hall

Dr Mills

Dr Roberts

Dr Hall
Home Visits
Whilst we encourage our patients to come to the surgery, where we have the proper equipment and facilities available, we do appreciate this is not always possible. In this respect, if you do need a home visit, you can help us by calling reception before 11:00.
You may only request a home visit if you are housebound or are too ill to visit the practice. Your GP will only visit you at home if they think that your medical condition requires it and will also decide how urgently a visit is needed. Please bear this in mind and be prepared to provide suitable details to enable the doctor to schedule house calls
You can also be visited at home by a district nurse if you are referred by your GP. You will also be visited at home by a health visitor if you have recently had a baby or if you are newly registered with a GP and have a child under five years.
Housebound patients -please inform the practice if you are housebound long-term. The practice nurses and the health care assistant, as well as the GP, can provide visits to the housebound for review of long-term conditions such as diabetes or heart disease. The health care assistant can visit to provide monitoring of blood tests or blood pressure when asked to do so by the surgery. District nurses provide nursing care/ catheter care/ wound care and similar services. The district nurses work in partnership with the practice but are employed by the health board. Their contact number is 0131 549 7360.
Cancel an Appointment
It is important that you inform the reception staff if you are unable to attend your appointment, this will allow that appointment to be offered to another patient.
Text Reminder Service
We have a texting service which allows you to receive confirmation and reminders about your appointments.
To have this service you will need to register by completing a consent form.
Please remember to update your contact details with us when you change address, telephone numbers and email address.
Training Practice
The practice undertakes the training of GP trainees and medical students.
You will be informed if you are offered an appointment with our trainee GP.
If there is a medical student present with the clinician you are seeing, you will be informed of their presence in advance, and if you do not want them to be present at a consultation, your wishes will be respected. This will not affect your treatment in any way.
Sick Lines
You do not require a Doctors sickness certificate for any illness lasting 7 days of less. Your employer may however require you to complete a self-certification form (SC2) which is available from your employer or the HMRC website.
For any illness that lasts longer than 7 days you can request a Doctors sickness certificate and these can be back-dated for your employer if we do not have an appointment available on the day. Please contact the surgery to request an appointment and our Reception team will add you to our waiting list.
Statement of Fitness for Work - FIT NOTE
The Fit Note was introduced on the 6th April 2010. With your employers support the note will help you return to work sooner by providing more information about the effects of your illness or injury for more information see the DirectGov website.